Think Wize crew celebrates the Django 1.0 release
Being a 100% Belgian Django shop, we didn't have to ponder long to find an appropriate way to celebrate the 1.0 release of the Python web framework for perfectionists with deadlines; we decided to pay Django Reinhardt's place of birth a visit. We jumped in the Think Wize mobile in Ghent and with Floss Weekly 16 (with Jeff Waugh) oozing from the Bose speaker system we arrived about an hour later in Liberchies.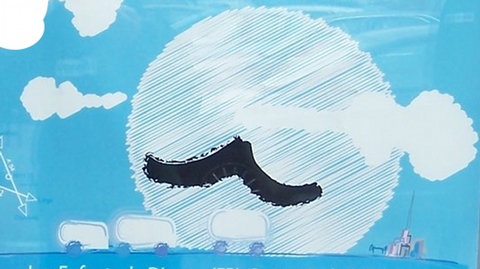 Django museum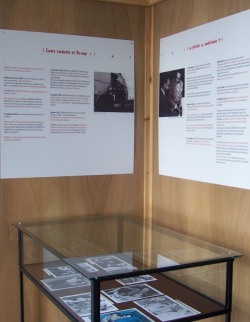 Liberchies is a pretty small rural village and it seems that one of its biggest, if not only, claim to fame is Django Reinhardt. The gipsy guitar player occupies a dedicated room at the local museum, but when we arrived there, the museum was closed. Bummer with a capital B! Or not? A note on the door said to check Liberchies' Administration for more info.
There we explained the people why we were visiting and without hesitation, someone walked us back to the museum, unlocked it and pulled up the blinds in the Django room. One lady was so nice to take pictures of us, another guy came with free T-shirts and bags of the annual Django-tribute music festival held in Liberchies. Sweet with a capital S! We were really stoked on the warm welcome we received from the Liberchies civil-servants-on-duty-people. See, in Belgium we have 3 official languages (Dutch, French and German) and all through the history of our country, the language difference has been quite a barrier causing all kinds of political crises, not in the least the last couple of years. But there in Liberchies it was proven that music unites across boundaries.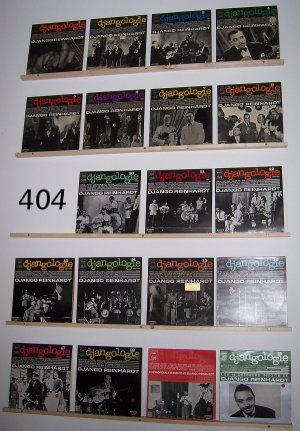 In the Django room we let the Master of Swing's memorabilia sink in. Pièce the résistance is probably the Djangologie Wall: 19 LP's, volume 1 through 20, but unfortunately volume 9 is missing. If anybody has a duplicate, please let us know. There's another wall with vinyl, showcases with pictures and documents (amongst which Django's birth certificate), posters of concerts, pictures of the annual "Django à Liberchies" music festival and plaques with historical info.
Outside the museum, we got our picture taken at the Django Memorial Stone, we were invited to come visit the next Django Festival and we got directions to the Django Holy Ground, the exact, actual place were Reinhardt was born.
Django pelouse
The Holy Ground nowadays is merely a piece of farm land, with only a sign reminding passers-by of the historical meaning of the land. We had to face the local police force, but they didn't keep us from taking pictures of the soil that produced the musical genius that is Django, Django with a capital D.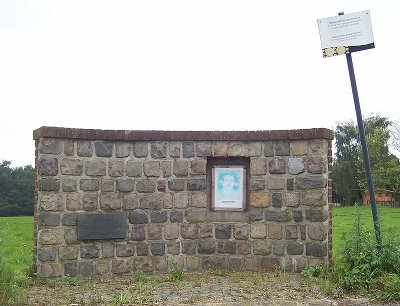 To conclude, congrats
Taking this trip was not only a great way to spend the day, it is also our way to say to the Django community: Great achievement, thank you for an awesome framework and kudos to all Django developers worldwide!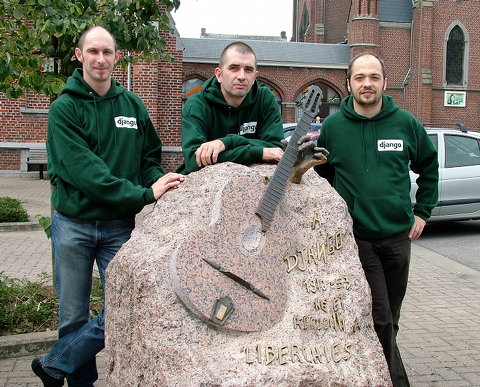 Wait, there is more...
Django's birth certificate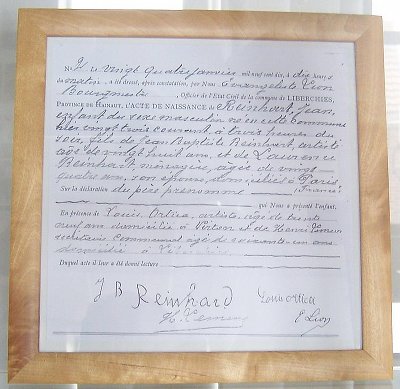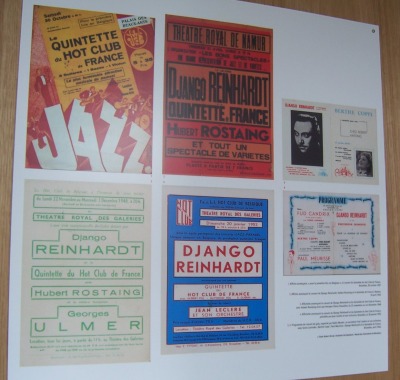 And more pictures of our Django 1.0 release trip on Google picasaweb.